JUST Eucalyptus Essential Oil is mixture of oils, which is used for colds, rhinitis, flu and fever. It can be used for problems with urinary tract and rheumatism. Relieves itching after insect bites, refreshes overall and stimulates during exhaustion.
JUST Eucalyptus Essential Oil 10 ml - DESCRIPTION:
Medicinal plants have been used for various ailments since time immemorial. Oils are used since ancient Egypt, Greece and Rome. Essential oils are the best concentrated extracts of plant. Essential oils are found in small quantities in the roots, leaves, flowers, bark or fruits.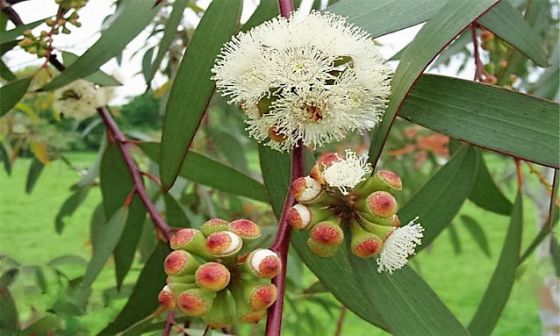 Do you suffer from fever, cold, cough, sore joints or are you nervous? Then the ethereal aroma substance from eucalyptus is exactly right for you. It comes from eucalyptus tree, which grows in Australia, where making up about 95 percent of local forests. Some eucalyptus species, e.g. Eucalyptus globulus, have acclimatized well to the shores of the Mediterranean.
Its leaves are the most popular food of koala bears. Eucalyptus contains in leaves substance called eucalyptol or cineole that is a major component of eucalyptus essential oil (70% -90%). It has a very pleasant camphor smell. Australian Aborigines used eucalyptus trees from ancient times and it was regarded as a panacea which they used to treat various types of wounds, colds, but also against snakebite and dysentery, against stings from insects or insect repellent.
Eucalyptus oil has a beneficial effect on the human psyche, suppresses anxiety attacks, panic and counteracts depression and eliminates physical exhaustion.
For obtaining essence is usually used Eucalyptus Globulus, but also other approximately 50 kinds of eucalyptus can be used - some of them are used in medicine, others more in perfumery.
JUST company took advantage of knowledge about the effects of eucalyptus oil and produced unique eucalyptus oil, which is enriched with oils of lavender, orange, rosemary, peppermint and chamomile. It is targeted oil blend which has a strong synergistic effect in several areas.
JUST Eucalyptus Essential Oil 10 ml - EFFECTS:
antibacterial, antiseptic, antiviral, anti-inflammatory, healing, enhances immunity, lowers fever, facilitates expectoration, relaxes the airways, relieves spasms, effective against pain, anti-rheumatic, repels insects
JUST Eucalyptus Essential Oil 10 ml - USE:
Oil can be used in aroma lamps, humidifiers, to spread on affected areas or in to the bath.
JUST Eucalyptus Essential Oil 10 ml - CAUTION:
Keep out of reach of children. Avoid contact with eyes and mucous membranes. For children under 3 years of use oil with special caution only. Do not take internally!
JUST Eucalyptus Essential Oil 10 ml - PACKAGING:
10 ml
Ingredients - JUST Eucalyptus Essential Oil 10 ml
JUST Eucalyptus Essential Oil 10 ml:
Eucalyptus Globulus Leaf Oil, Lavandula Hybrida Oil, Citrus Aurantium Dulcis (Orange) Oil, Rosmarinus Officinalis (Rosemary) Leaf Oil, Helianthus Annuus (Sunflower) Seed Oil, Mentha Piperita (Peppermint) Oil, Echinacea Angustifolia Root Extract, Mentha Arvensis Leaf Oil, Limonene, Linalool, Citronellol, Geraniol, Citral, Eugenol, Coumarin