Mulberry fruits were in traditional Chinese medicine for millennia has been used as an immediate source of energy, blood tonic, strengthens the immune system, kidney or calming the mind and modification of sleep.
White mulberry wolfberry 75 g - Description: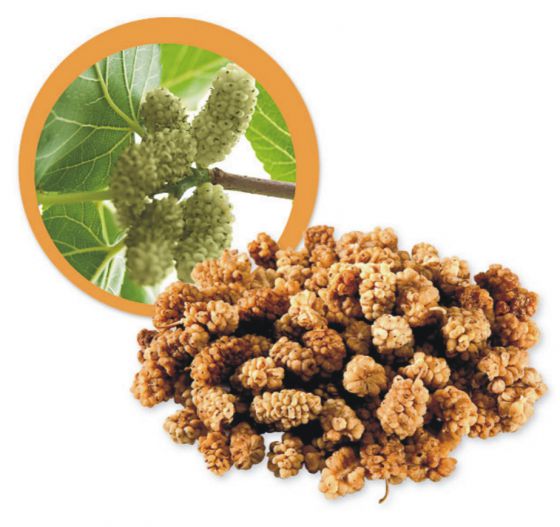 Mulberry fruits - also mulberry - the very shape resemble blackberries. It is a flower fruits achenes enclosed in zdužnatělého corolla (with blackberries talking about sorosis peckoviček). Sorosis are either dark purple or white if the white mulberry.
They are very sweet, but also sensitive to transportation, so it's unlikely that you buy in our fresh mulberry. They are first dried in the sun and then so processed export. Drying, thus increasing the sugar content and sweetness of mulberries. However, there are "only" sweet and delicious snacks, as we can for their nutritional value classified as superfoods.
They have a high content of vitamin C, vitamin K further comprise a variety of minerals - iron, calcium, phosphorus, potassium, magnesium, and also a large amount of fiber and protein. It may be eaten as ideal tasty and healthy snack, due to the high content (approximately 50%), natural sugars, especially glucose and fructose. The fruit also have relatively high levels of protein (approximately 10% when dried) and no fat. Digestible fiber represents about 10%.
Mulberries are also a significant source of resveratrol. Resveratrol is a natural antioxidant and a stilbene derivative, occurring in the body of some plants. Many experts attributed to resveratrol antioxidant and antibacterial effects. Resveratrol can often be found as a part of over the counter supplements. Mulberry also contain moranolin, which slows the absorption of carbohydrates and helps to maintain healthy blood glucose levels.
White mulberry wolfberry 75 g - EFFECTS:
For more information about this product, unfortunately we can not be disclosed because it would be in accordance with Regulation of the European Parliament and Council Regulation (EC) no. 1924/2006 health claims that can not be disclosed. We publish only those health claims that have been approved by the European Commission. As an example of an approved health claim might claim for water: "It contributes to the maintenance of normal physical and cognitive functions, contributes to the maintenance of normal regulation of body temperature." Wherein the water must also be consumer is informed that in order to obtain the claimed effect is necessary to provide a daily intake of at least 2 liters of water. Let every visitor of which draw their own conclusions.
White mulberry wolfberry 75 g - USE:
Dried mulberries themselves are a little crispy, about as much as figs. They can be eaten alone or just eg. As a refreshing alternative to raisins or other dried berries. You can also prepare sweets from mulberry (grind in a blender, add the peanut butter and sweeten to taste). They are also part of the mix as tasty dried fruit and nuts, as well as the preparation of various healthy delicious sweetness.
White mulberry wolfberry 75 g - CAUTION:
Store in a dry place. It does not contain allergens.
White mulberry wolfberry 75 g - PACKING:
Plastic bag. 75 g.
Ingredients - Wolfberry Mulberry white 75 g
White mulberry wolfberry 75 g - COMPOSITION:
100% mulberry white.
Allergens: no allergens. GMO FREE