Energy Organic Chlorella is a dietary supplement that contains green algae Chlorella, which affects the intestinal digestion and microforms, and is suitable detoxify the body
DESCRIPTION: Energy Organic Chlorella 200 tablets
Pacific island of Taiwan is the only place in the world that offers the highest quality chlorella.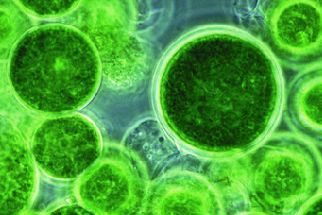 Unicellular alga Chlorella nowadays has become very popular for its contribution to our health, especially for its detoxifying properties. It includes a wide variety of minerals, vitamins, amino acids, chlorophyll and antioxidants. It is grown in pure water in which it is growing very rapidly and by photosynthesis is able to produce a unique growth factor, called. Chlorella Growth Factor (CGF).
Nucleic acids are the basic building blocks of life are very important to maintain the natural defense system and its proper functioning. Powerful CGF can help increase the body's natural defense system activity, helping to remove large amounts of dirt from the body and restore cellular strength and integrity. It is absorbed directly into the bloodstream, works everywhere in the body, reaches deep into the cells.
Some scientists have studied the effect of foods rich in nucleic acids DNA and RNA, and believe that these foods may help slow the aging process. As people age, the body's ability to produce nucleic acids DNA and RNA slows. This leads to many typical signs of aging, such as an energy loss, increased susceptibility to disease. The disclosed nucleic acids are necessary for protein synthesis and therefore support cell growth and reproduction. CGF can also be considered strong "prebiotic", which increases the rate of growth of beneficial gut (but even vaginal) microflora.
Dr. Fujimaki Japan isolated Chlorella Growth Factor, and named him as revitalizing ingredients, reviving tired cells and helping the shattered cells in seberekonstrukci. After Fujimakiho study was carried out several other but which showed that Chlorella with its growth factor prevented the treatment of oncological diseases, on the contrary: studies prove quite opposite efficiency algae Chlorella, both in the prevention and in supportive therapy of oncological diseases.
EFFECTS: Energy Organic Chlorella 200 tablets
For more information about this product, unfortunately, we can not be disclosed because it would be in accordance with Regulation of the European Parliament and Council Regulation (EC) no. 1924/2006 health claims that can not be disclosed. We publish only those health claims that have been approved by the European Commission. As an example, approved a health claim for the water we claim: "It contributes to the maintenance of normal physical and cognitive functions, contributes to the maintenance of normal regulation of body temperature." Wherein the water must also be consumer is informed that in order to obtain the claimed effect must provide a daily intake of at least 2 liters of water. Let every visitor of which draw their own conclusion.
USE: Energy Organic Chlorella 200 tablets
2 tablets 1-3x daily. During use, we recommend increased fluid intake.
WARNING: Energy Organic Chlorella 200 tablets
The product is not intended for children under 3 years! The product is not recommended to people hypersensitive to chlorophyll. Use during pregnancy and breast-feeding consult your doctor. Dietary supplements are not intended to substitute varied diet. Do not exceed the recommended dosage. Store in a dry place, away from direct sunlight at a temperature of 10-25 ° C. Do not freeze. Keep out of reach of children.
PACKAGING: Energy Organic Chlorella 200 tablets
200 tablets
Ingredients - Energy Organic Chlorella 200 tablets
INGREDIENTS: Energy Organic Chlorella 200 tablets
Chlorella (Chlorella pyrenoidosa) - 100%.