Iswari BIO Spirulina is a great detoxikant and has an extremely high content of quality protein. Spirulina is a freshwater alga, which won its color because chlorophyll pigments, which are very rich in antioxidants. It contains many easily absorbed proteins, vitamins, minerals and enzymes.
DESCRIPTION: Iswari BIO Spirulina 125 g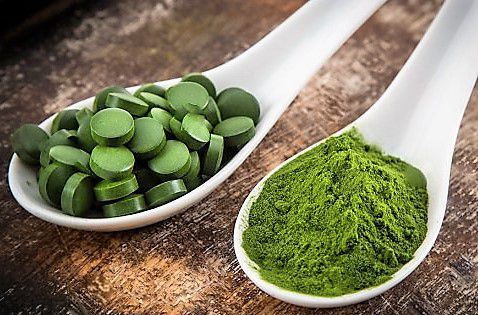 Spirulina is one of the oldest forms of life on earth. As part of the diet he was already known by some ancient cultures. E.g. for residents of the area today Mexico City was for several millennia main source of high quality protein. It is known that the Aztecs consumed it before the arrival of the Spaniards, together with cocoa.
Spirulina has a very high nutritional value due to the very high proportion of protein and the absence of cellulose in the cell wall. Therefore, it is suitable as a dietary supplement for people with reduced food intake. Of all living organisms is the proportion of protein in spirulina high - between 65% and 71%. Furthermore, spirulina protein contains all the essential amino acids. Proteins are not only involved in the formation of muscle, but are also important to the overall metabolism. If we realize that when cooking meat and eggs is about 50% destroyed protein, spirulina becomes an excellent complement to our food.

Spirulina contains extremely high levels of antioxidants in the form of beta-carotene, chlorophyll, zeaxanthin and phycocyaninu.Dále in spirulina can be found very high levels of gamma-linolenic acid (GLA), which is among the unsaturated fatty acids. A study was conducted on 270 children living in the contaminated Chernobyl area, which suffered increased allergic reactions. Their condition improved dramatically after six weeks of consumption of 5 g of spirulina daily.
Spirulina effect on our immune system due to high content of beta-carotene, lipo-polysaccharides and LPS phycocyaninu. Amino acids and carbohydrates contained in Spirulina are very easily absorbed. This is the blood maintained sufficient levels of these compounds jump and so the brain does not broadcast frequent hunger signals.
Of vitamins Spirulina is rich in vit. com. B (B1, B2, B3, B5, B6, B8, B12 - that in the case of spirulina based on studies does not increase the amount in the blood, but together with phycocyaninem facilitates use of iron for hematopoiesis), vit. E and H. The minerals then spirulina contains a full spectrum of trace elements, e.g. potassium electrolytic equilibrium), phosphorus (bone density, digestion), magnesium (health of bones and teeth, muscle activity and heart absorption vit. C, B, and proteins) , manganese (activity of enzyme system, stabilization of blood sugar), selenium (antioxidant), calcium (health of bones and teeth, neurotransmission), zinc (enzymatic component), iron (component of hemoglobin, the oxygen transfer).
EFFECTS: Iswari BIO Spirulina 125 g
For more information about this product, unfortunately, we can not be disclosed because it would be in accordance with Regulation of the European Parliament and Council Regulation (EC) no. 1924/2006 health claims that can not be disclosed. We publish only those health claims that have been approved by the European Commission. As an example, approved a health claim for the water we claim: "It contributes to the maintenance of normal physical and cognitive functions, contributes to the maintenance of normal regulation of body temperature." Wherein the water must also be consumer is informed that in order to obtain the claimed effect must provide a daily intake of at least 2 liters of water. Let every visitor of which draw their own conclusion.
USE: Iswari BIO Spirulina 125 g
Add a teaspoon of soups, salads, rice, guacamole, fruit or vegetable juices, etc. Add 1 teaspoon of the apple cider or other and create an energy drink. It is important to use only spirulina in meals warm up to 42 ° C, add a teaspoon of chili soup served on a plate already!
Spirulina green juice: 2 apples, fresh ginger about half the size of a finger, 1 teaspoon of spirulina powder, juice of half a lime or lemon, a handful of spinach. Mash and immediately drink (all you can drink straight or decant)
Enjoy max. 10 g / day, ie. 2 tsp.
WARNING: Iswari BIO Spirulina 125 g
Regular consumption
of spirulina
is not suitable
for pregnant and breastfeeding
women because
toxic substances
are eliminated
, among others
.
Bodily fluids
incl
.
milk
!
Do not exceed the
recommended daily dose.
Keep
out of the reach
of children
.
Not intended
as a substitute
for a varied diet
.
Store
in a cool dry
place
, away
from direct sunlight.
PACKAGING: Iswari BIO Spirulina 125 g
125 g
Ingredients - Iswari BIO Spirulina 125 g
INGREDIENTS: Iswari Spirulina 125 g
100% organic spirulina powder
Vitamine, mineralstoffe:

100 g

Vitamin

B12

1,9 μg

Eisen

11,3 mg