Weleda Combudoron Gel soothes the skin immediately after sunburn or insect bites. It promotes regeneration of the skin after burns.
DESCRIPTION: Weleda Combudoron Gel 25 g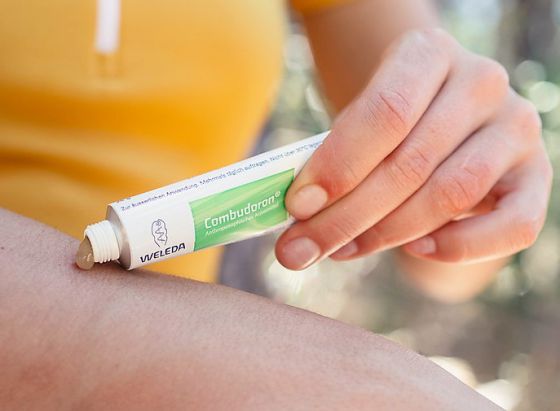 Weleda Combudoron gel soothes and disinfects irritated charred skin due to the content of plant extracts and alcohol. Tiling of lotion should be applied on a reddish skin after sunburn, for minor burns and insect bites.
Thanks to extracts of arnica and nettle calms the skin stops burn and sting faster. Plant extracts alleviate pain, promote faster regeneration of the skin and prevents inflammation.
Combudoron gel irritated or burned effectively disinfect the place, numb, alleviate pain and accelerate the regeneration of affected skin.
Thanks to an alcoholic skin immediately and disinfect and prevent the growth of microorganisms. It is thus the effective prevention against inflammation. Arnica extract promotes regeneration of tissues and accelerates healing, while the extract of nettle soothes and relieves skin irritation.
Arnica - arnica flower tincture is preparing to play in naturopathy important role. Arnica is used for sprains, thrombosis, blood bruises and contusions, inflammation of the oral mucosa, for the preparation of compression and for skin diseases. In homeopathy is used as an anti-convulsant, and a regulator circulation.
EFFECTS: Weleda Combudoron Gel 25 g
For more information about this product, unfortunately, we can not be disclosed because it would be in accordance with Regulation of the European Parliament and Council Regulation (EC) no. 1924/2006 health claims that can not be disclosed. We publish only those health claims that have been approved by the European Commission. As an example, approved a health claim for the water we claim: "It contributes to the maintenance of normal physical and cognitive functions, contributes to the maintenance of normal regulation of body temperature." Wherein the water must also be consumer is informed that in order to obtain the claimed effect must provide a daily intake of at least 2 liters of water. Let every visitor of which draw their own conclusion.
USE: Weleda Combudoron Gel 25 g
We do not use allergy to Arnika. Apply immediately after the injury, insect bites on unbroken skin. From the 2nd day we recommended to use Combudoron ointment.
WARNING: Weleda Combudoron Gel 25 g
Store in a dry to a temperature of 25°C. Do not expose to sunlight. Keep out of the reach of children. Do not apply to broken skin and allergy to arnica.
PACKAGING: Weleda Combudoron Gel 25 g
25 g
Ingredients - Weleda Combudoron Gel 25 g
INGREDIENTS: Weleda Combudoron Gel 25 g
arnica extract and nettle, glycerol, alcohol, sodium alginate, water