Are you looking for bath salts to relieve your skin while pleasant relax after hours and hours spent at work? Then don´t hesitate and get a first-class JUST San'Activ Bath 250 g with Dead Sea salt!
JUST San'Activ Bath 250g - DESCRIPTION:
Dead Sea salt contains several minerals and trace elements, its composition is unique and is prized for centuries for typical feeling of relaxation and nourishing the skin. To date in Roman times healers used salt to mitigate problems with the skin and musculoskeletal system. It is said that Queen of Sheba during the journey to the court of King Solomon showed interest to stay on its coast. Queen Cleopatra tried to gain control over the territory of ​​ Dead Sea, because already in her era cosmetic products of Dead Sea salt were very famous and popular.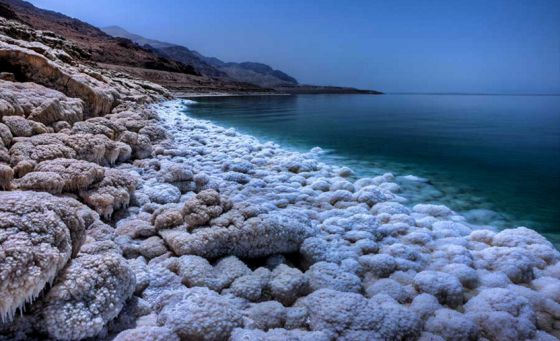 Due to its low location, Dead Sea has unique climate and in the air a high concentration of minerals, carbonates and sea salt, which are absorbed directly into the body. The low location of Dead Sea paradoxically serves as a protection against UV radiation and other unwanted toxins. People go there to treat skin, joint and breathing problems. However allergic and asthmatic persons are happy about it the most.
Just San'Activ Bath 250 g is popular not only for its content of medicinal herbs but just for the content of Dead Sea salt also. A mixture of plant extracts and essential oils makes this product unique and gives you beauty, freshness, and knows how to your skin ailments!
JUST San'Activ Bath 250g - EFFECTS:
Anti-rheumatic, anti-inflammatory, analgesic, antiseptic, soothing, nourishes the skin, relieves irritation, moisturizing, has positive effect on eczema and psoriasis.
JUST San'Activ Bath 250g - WARNING:
Caution when opening not to inhale the salt. The same caution is also recommended when dosing to the bath.
JUST San'Activ Bath 250g - USE:
For one bath dissolve 2-3 tablespoons in warm water. Bathing time about 20 minutes.
JUST San'Activ Bath 250g - PACKAGING:
Ingredients - JUST San'Activ Bath 250 g - with Dead Sea Salts
JUST San'Activ Bath 250 g:
Maris Sal, Hydrolyzed Wheat Protein, Magnesium Carbonate Hydroxide, Serica Powder, Chamomilla Recutita Flower Powder, Picea Excelsa Leaf Oil, Pinus Pumilio Branch/Leaf Oil, Malva Sylvestris Extract, Agropyron Repens Root Extract, Thymus Vulgaris Flower/Leaf/Stem Extract, Juniperus Communis Fruit Oil, Rosmarinus Officinalis Leaf Oil, Isobornyl Acetate, Pinus Sylvestris Leaf Oil, Parfum, Silica, Tricalcium Phosphate, Sodium Carbonate, Maltodextrin, Limonene, CI 45350