Ghee is filtered BIO butter fat stripped of water and protein. Gets the dismissal BIO butter. It is suitable for all methods of cooking.
Wolfberry BIO Ghee 200 ml - Description: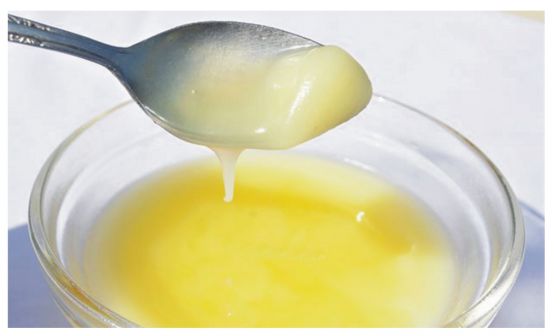 Butterfat, which is now called by Indian cuisine ghee, is not new even in the Czech meadows and groves. Our grandmothers or cook famous Magdalena Rettig, telling him clarified butter or šmolc. Especially appreciated the fact that due to lack of water and protein turn rancid, so in a tightly closed container can withstand a cool, dark place for several months.
Ghee is pure fat, which is prepared very slow relief of butter. During this procedure, water evaporates from butter, but also the resulting foam, in which the milk proteins, sugars and other materials, which comprises conventional butter. The resulting product is really pure fat, which has a yellow color and a delicious buttery aroma and flavor with a slightly sweet, nutty undertone.
Although ghee made from butter, but through processing it is not lactose or casein. With this feature, you may, after consultation with the doctor, treat yourself to people who like the taste of butter, but have allergies to any of dairy ingredients.
Another of its invaluable characteristics is very high flash point, which is around 240 ° C. This capability is achieved thanks to the fact that the passing of the butter is removed all its ingredients. When baking or frying and no stilling substances contained in fats lower smoke point and its damaging release into the food.
Wolfberry ghee is made from milk from the Czech organic farms that are taking care of their land and cows do without pesticides, fertilizers or other chemicals. During its production does not use artificial flavors, colorings or flavor so that the customer gets really ghee in its natural color, taste and smell.
Wolfberry BIO Ghee 200 ml - EFFECTS:
For more information about this product, unfortunately we can not be disclosed because it would be in accordance with Regulation of the European Parliament and Council Regulation (EC) no. 1924/2006 health claims that can not be disclosed. We publish only those health claims that have been approved by the European Commission. As an example of an approved health claim might claim for water: "It contributes to the maintenance of normal physical and cognitive functions, contributes to the maintenance of normal regulation of body temperature." Wherein the water must also be consumer is informed that in order to obtain the claimed effect is necessary to provide a daily intake of at least 2 liters of water. Let every visitor of which draw their own conclusions.
Wolfberry BIO Ghee 200 ml - USE:
It is suitable for all methods of food preparation. Ideal for frying, the nepřepaluje. Ghee also has a much longer shelf life than conventional butter.
Wolfberry BIO Ghee 200 ml - CAUTION:
In a sealed container in a cool, dark place for at least 12 months. At a temperature of 20 ° C ghee can be stored outside the refrigerator. Allergene: Gluten.
Wolfberry BIO Ghee 200 ml - PACKING:
200 ml. Glass.
Ingredients - Wolfberry BIO Ghí 200 ml
Wolfberry BIO Ghee 200 ml - COMPOSITION:
100% organic butter. Allergene: Gluten.