Quinoa is highly nutritious food interesting proteinaceous composition. It is represented in all the important proteins and is similar to soy.
Wolfberry BIO Quinoa flakes 250 g - DESCRIPTION: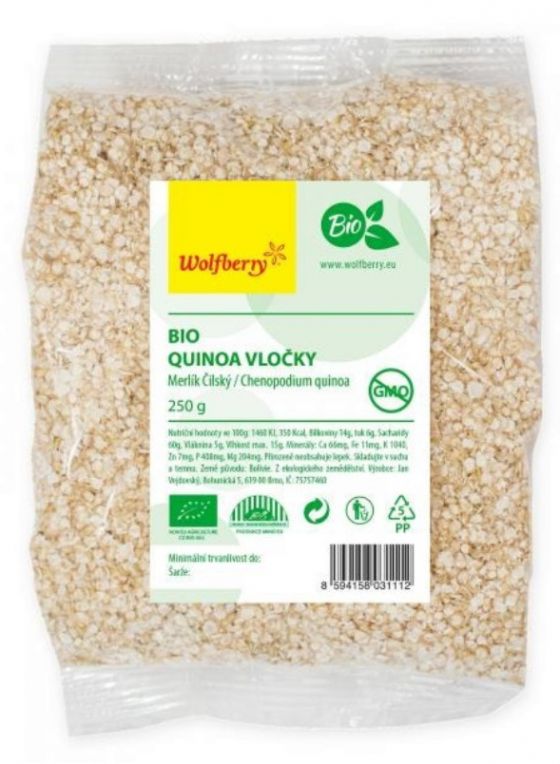 Hardly anyone knows it is true, in the Czech Republic is not very widespread, but it is nowadays easily accessible. This is one of the oldest grain from South America that has a very delicious taste. For the ancient Incas quinoa was the daily bread.
If you have quinoa gains, it will be just fine. We are talking about here is a highly nutritious food that is not only interesting from the point of view of its exceptional protein composition. So, our dear vegetarians and vegans, we offer more of the foods which can increase the biological value of their diet. Aside from the low levels of methionine are represented in all the necessary proteins, and its share of lysine, this cereal like soybeans, which in many countries, the main source of protein. It should be noted that the amino acid lysine, which is very rare in the plant kingdom.
With a high proportion of magnesium and vitamin B2 is beneficial to people suffering from migraine headaches and as a foodstuff with extremely high fiber assists in reducing blood pressure, cardiovascular disease, colon cancer, and diabetes. According to Chinese medicine harmonizes the kidneys, which has an energizing effect. From a nutritional point of view we would also be interested often iron deficient, half a cup of it contains about 8 mg, which Quino puts on one of the top positions in the table ferric plant foods. Will contain the same amount of nice 5 g fiber.
Low sodium content conversely exceeds a higher content of calcium, phosphorus, magnesium, potassium, copper, manganese and zinc. These minerals are represented in a much higher level than that of wheat, barley and maize. The glycemic index of this false grains is equal to 35, quinoa is thus suitable for a diabetic diet, reduction due to the absence of gluten and then also in the treatment of celiac disease. I would like to mention that excel quinoa flour with good baking skills. Thanks deficit gluten-free bread will crumble.
It features a fine texture and delicate flavor. It is easily digestible, Reduced flatulence.
Wolfberry BIO Quinoa flakes 250 g - EFFECTS:
For more information about this product, unfortunately we can not be disclosed because it would be in accordance with Regulation of the European Parliament and Council Regulation (EC) no. 1924/2006 health claims that can not be disclosed. We publish only those health claims that have been approved by the European Commission. As an example of an approved health claim might claim for water: "It contributes to the maintenance of normal physical and cognitive functions, contributes to the maintenance of normal regulation of body temperature." Wherein the water must also be consumer is informed that in order to obtain the claimed effect is necessary to provide a daily intake of at least 2 liters of water. Let every visitor of which draw their own conclusions.
Wolfberry BIO Quinoa flakes 250 g - USE:
However, it can be used to thicken soups, potato pancakes, or mix it with other kinds of flour, up to a maximum of 10%.
Like most cereals, quinoa well during cooking increases in volume, which is good to keep in mind when metering portions. Cereal does not need to wash beforehand, as is the case with millet. And that is done, we can tell that a little bit and becomes transparent to the individual zrníčcích is evident structure key. Perfect preparation of sweet porridge, salads, desserts to prepare, or as a garnish the soup. Imagination has no limits, however, you can add it wherever we used to eat rice. It can be beautifully combined with dried fruit and produce fresh and healthy alternative to breakfast or snacks for your children.
Wolfberry BIO Quinoa flakes 250 g - WARNING:
Store in a cool, dry place. Allergens: May contain traces of gluten.
Wolfberry BIO Quinoa flakes 250 g - PACKING:
Plastic bag. 250 g.
Ingredients - Wolfberry BIO Quinoa flakes 250 g - Quinoa
Wolfberry BIO Quinoa flakes 250 g - COMPOSITION:
100% Quinoa flakes.
Minerals per 100 g:
Calcium: 66 mg; Iron: 11 mg; Potassium 1040 mg; Zinc: 7 mg; Phosphorus: 408 mg; Magnesium: 204 mg.
Allergens: Naturally gluten-free, but the package may contain trace amounts of gluten. GMO FREE.