JUST San'Activ cream contains Dead Sea salt along with herbs. ✅ Original JUST San'Activ cream in our 100% stock❗ We will be happy to help you choose the right product personally.
JUST San'Activ Cream 100 ml - DESCRIPTION:
Dead Sea salt contains several minerals and trace elements, its composition is unique and is prized for centuries for typical feeling of relaxation and nourishing the skin. To date in Roman times healers used salt to mitigate problems with the skin and musculoskeletal system. It is said that Queen of Sheba during the journey to the court of King Solomon showed interest to stay on its coast. Queen Cleopatra tried to gain control over the territory of ​​ Dead Sea,because already in her era cosmetic products of Dead Sea salt were very famous and popular.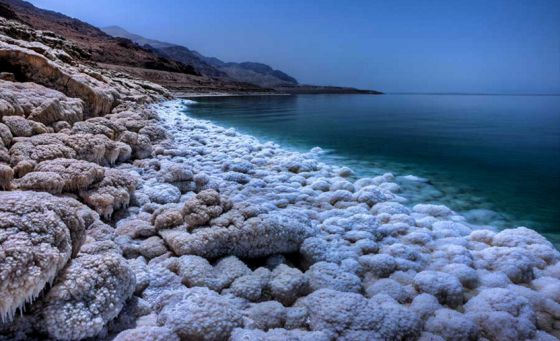 Due to its low location, Dead Sea hasunique climate and in the air a high concentration of minerals, carbonates and sea salt, which are absorbed directly into the body. The low location of Dead Sea paradoxically serves as a protection against UV radiation and other unwantedtoxins. People go there to treat skin, joint and breathing problems. However allergicand asthmatic persons are happy about it the most.
Just San'Activ Cream 100 ml is multi-purpose cream for all skin types. In addition, it protects the skin from external influences, can provide relief for skin problems or after operations and injuries musculoskeletal system. Many of our customers are more than satisfied with it for its beneficial effects on the body and delicate scent. Treat also the best care with JUST San'Activ Cream 100 ml!
JUST San'Activ Cream 100 ml - EFFECTS:
Anti-rheumatic, anti-inflammatory, analgesic, antiseptic, soothing, nourishes the skin, relieves irritation, moisturizing.
JUST San'Activ Cream 100 ml - USE:
When needed, apply a small amount of cream and massage gently.
JUST San'Activ Cream 100 ml - PACKAGING:
100 ml
Ingredients - JUST San'Activ Cream 100 ml - with Dead Sea Salt
JUST San'Activ Cream 100 ml:
Water (Aqua), Mineral Oil (Paraffinum Liquidum), Sea Salt (Maris Sal), Glyceryl Stearate, PEG-100 Stearate, Cetyl Alcohol, Sorbitol, Cetyl Palmitate, Simmondsia Chinensis (Jojoba) Seed Oil, Dimethicone, Fragrance (Parfum), Salicylic Acid, Allantoin, Lanolin Alcohol, Calendula Officinalis Flower Extract, Euphrasia Officinalis Extract, Triticum Vulgare (Wheat) Germ Extract, Sodium Hyaluronate, Propylene Glycol, Ethoxydiglycol, Imidazolidinyl Urea, Polyacrylamide, Methylparaben, Sodium Hydroxide, C13-14 Isoparaffin, Butylene Glycol, Propylparaben, Laureth-7, Lactic Acid, Glucose, Phenoxyethanol, Sodium Benzoate, Potassium Sorbate, Eugenol, Hydroxycitronellal, Isoeugenol, Benzyl Salicylate, Coumarin, Geraniol, Linalool, Benzyl Benzoate, Citronellol, Hexyl Cinnamal, Limonene, alpha-Isomethyl Ionone