Pumpkin seeds are not only excellent eat but especially a source of unsaturated fatty acids, phytosterols, kukurbitinu, carotenoids and chlorophyll.
Wolfberry BIO Pumpkin seeds 100 g - DESCRIPTION:
It contains a range of minerals so by scientists quarter cup covers 52% of the recommended daily doses of manganese, 46.1% magnesium, 28.7% iron, 24% copper, 17.1% zinc and 16.9% proteins.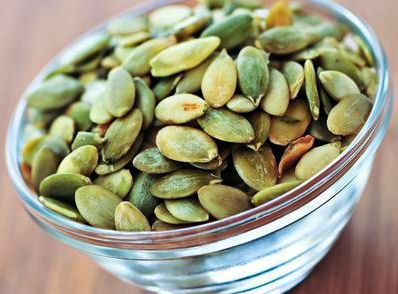 Phytosterols, which contains 100 g of pumpkin seeds 265 mg, natural steroids that can act, inter alia, against hormonal changes taking place in the body of middle aged men. In combination with zinc can act preventively against nezhoubnému prostate enlargement and preventing excess amounts of DHT from testosterone.
Pumpkin seeds are also used as a diuretic and anti-inflammatory natural remedy for both men and women. May favorably affect the immune system, slow the aging process and fight against osteoporosis in men.
Wolfberry pumpkin seeds can be eaten directly, because they are obtained from a special variety of gourds, which produces seeds without hulls. They are excellent but also lightly roasted, or soaked in water, making them activate enzymes.
Wolfberry BIO Pumpkin seeds 100 g - EFFECTS:
For more information about this product, unfortunately we can not be disclosed because it would be in accordance with Regulation of the European Parliament and Council Regulation (EC) no. 1924/2006 health claims that can not be disclosed. We publish only those health claims that have been approved by the European Commission. As an example of an approved health claim might claim for water: "It contributes to the maintenance of normal physical and cognitive functions, contributes to the maintenance of normal regulation of body temperature." Wherein the water must also be consumer is informed that in order to obtain the claimed effect is necessary to provide a daily intake of at least 2 liters of water. Let every visitor of which draw their own conclusions.
Wolfberry BIO Pumpkin seeds 100 g - CAUTION:
Store in a dry place. GMO FREE (No Genetic Modification of an Organism).
Wolfberry BIO Pumpkin seeds 100 g - PACKING:
100 g
Ingredients - Wolfberry BIO Pumpkin seeds 100 g
Wolfberry BIO Pumpkin seeds 100 g - INGREDIENTS:
100% pumpkin seeds in organic quality.
Allergens: no allergens, GMO-free.
Supplement facts - Wolfberry BIO Pumpkin seeds 100 g
Wolfberry BIO Pumpkin seeds 100 g - NUTRITION FACTS:
Nutrition Facts

100 g

Calories
2340 kJ / 559 kcal
Protein
29 g
Total Carbohydrate
4,71 g

-

Sugars
1,4 g

-

Polyols
0 g

-

Starch
0 g
Total Fat
49,5 g

-

Saturated Fat
8,66 g

-

Mono-unsaturated Fat
16,24 g

-

Poly-unsaturated Fat
20,98 g

-

Cholesterol
0 g
Dietary Fiber
6 g
Sodium
0 g