Ruticelit renove 50 ml is a bio-information cream with regenerating effect that contains a high percentage of active ingredients and it is used when the skin is unbalanced.
DESCRIPTION: Energy Ruticelit renove 50 ml
Energy - Ruticelit renove 50 ml is a bio-cream with restorative treatment. It contains many active ingredients, water from thermal waters and vegetable oils. Used in kuperóze, tired skin, varicose veins, asthma, problems with blood talc, migraines, heart disease, and mucous membranes in many other neduhách.
What is kuperoza?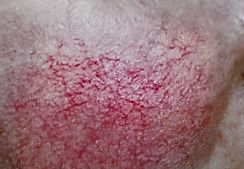 Kuperoza is characterized as redness, dryness, and skin sensitivity. It is accompanied by burning and stinging. Speech is a reddening of the skin. Redness is due to the widespread capillaries, which are due to poor skin elasticity expanding when blood circulation in the skin quickly, but then had withdrawn, as it should be for normal skin. Kuperózou skin sufferers are in their initial stages, may appear redness and disappear again, in more advanced stages may be visible redness on the skin continuously.
What causes kuperózu?
Uncomfortable and unsightly red spider veins mainly causes high blood pressure, obesity, insensitive cleansing, environmental factors, age and genetics.
Prevention kuperóze can then only avoidance environments where excessive heat and drought, exercise, regular and proper skin cleansing and regular use of the cream on kuperózu.
EFFECTS: Energy Ruticelit renove 50 ml
For more information about this product, unfortunately, we can not be disclosed because it would be in accordance with Regulation of the European Parliament and Council Regulation (EC) no. 1924/2006 health claims that can not be disclosed. We publish only those health claims that have been approved by the European Commission. As an example, approved a health claim for the water we claim: "It contributes to the maintenance of normal physical and cognitive functions, contributes to the maintenance of normal regulation of body temperature." Wherein the water must also be consumer is informed that in order to obtain the claimed effect must provide a daily intake of at least 2 liters of water. Let every visitor of which draw their own conclusion.
USE: Energy Ruticelit renove 50 ml
Paint it locally on problematic areas in a thin layer 1-3 times a day. The cream can be applied in the places above single organs, on reflex zones or acupuncture points, both acute problems and chronic illness or discomfort. Certifies either massage or just the cream on the relevant points.
WARNING: Energy Ruticelit renove 50 ml
Store in a dry place at 10-25 ° C and protect from frost. In case of temporary aggravation of problems, it is the reverse regeneration process - ie. The reverse reaction. This phenomenon is influenced by positive and decreasing the frequency of application and increasing fluid intake.
PACKAGING: Energy Ruticelit renove 50 ml
50 ml
Ingredients - Energy Ruticelit renove 50 ml
INGREDIENTS: Energy Ruticelit renove 50 ml
Aqua, Hydrogenated Sweet Almond Oil, Hydrogenated Sunflower Seed Oil, Extractum Herbarum (Sanguisorba Officinalis Root Extract, Melilotus Officinalis Herb Extract, Hamamelis Virginiana leaf Extract, Anthyllis Vulneraria Flower Extract, Calendula Officinalis Flower Extract, Ribes Nigrum Leaf Extract, Rutam Graveolens Leaf/Root/Stem Extract, Sophora Japonica Fruit Extract, Symphytum Officinale Root Extract, Aesculus Hippocastanum Flower Extract, Polygonum Fagopyrum Stem Extract, Gingko Biloba Leaf Extract, Hypericum Perforatum Flower/Leaf/Stem Extract, Equisetum Arvense Extract, Arnica Montana flower Extract), Cetearyl Alcohol, Glycerin, Cocamidopropylbetaine, Hydrogenated Polyisobutene, Decyl Glucoside, Tocopheryl Aceate Carbomer, Argain Spinosa Kernel Oil, Nigella Sativa Seed Oil, Parfum Polysorbate 0, Polyacrylate - 13, Caprylyl Glycol, Glyceryl Caprylate, Macadamia Ternifolia Seed Oil, Eisenia Foetid Extract, Phenylpropanol, SOdium Hydroxide, Citric Acid, Succinic Acid, Lauric Acid, Myristic Acid, Stearic Acid, Palmitic Acid, Citronellol, Geraniol, Limonene, Linalool, Citral, Eugenol.