Protektin renove is a bio-information cream with regenerating effect that contains a high percentage of active ingredients and it is used when the skin is unbalanced.
DESCRIPTION: Energy Protektin renove 50 ml
Energy - Protektin renove 50 ml is a bio-cream with restorative treatment. It contains many active ingredients, water from thermal waters and vegetable oils. It is intended primarily for combination and oily skin prone to acne and rashes. It is used as an aid in the treatment of inflammatory and ekzematických bearings. Does not dry the skin and tightens pores. It is rich in vitamins, minerals and especially calcium and magnesium. It is also used in the presence of pigmented spots, problems with liver, gall bladder, stomach and spleen. It is suitable for indigestion and allergies. Strongly supports the elasticity of tendons and ligaments, creativity, and creativity.
What are the causes of problematic skin?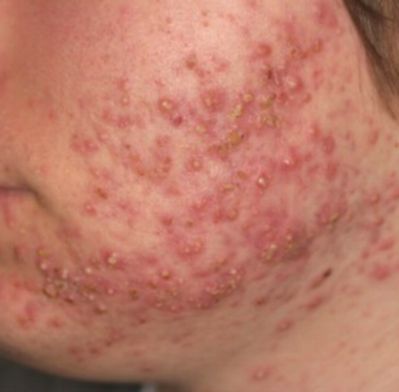 Problematic skin is a frequent phenomenon of skin that usually begins in adolescence, when the body is experiencing a major hormonal changes. Hormonal agents, known as androgens stimulate the sebaceous glands to increased sebum production, which is undesirable. This phenomenon can also disrupt the natural exfoliation of the skin. When too much skin ointments and disturbed the natural exfoliation of the skin, the skin can create a kind of plugs that clog the skin. These plugs rush and create white tip, this tip may darken, thereby forming a black dot or zarudnou, which is caused by inflammation or infection.
Although this phenomenon manifests itself most often during adolescence, it is no exception when it appears in adulthood. In adulthood, it is usually caused by hormonal fluctuation or change too oily skin, poor care of her, and finally a big role is played by genetics.
What is prevention?
The best prevention and help for problematic skin is cleansing the skin with lukewarm water, not using too thick makeup, sun protection suitable for oily and problematic skin, not touching the pimples and the proper use of cosmetics, which is intended for the skin.
EFFECTS: Energy Protektin renove 50 ml
For more information about this product, unfortunately we can not be disclosed because it would be in accordance with Regulation of the European Parliament and Council Regulation (EC) no. 1924/2006 health claims that can not be disclosed. We publish only those health claims that have been approved by the European Commission. As an example of an approved health claim might claim for water: "It contributes to the maintenance of normal physical and cognitive functions, contributes to the maintenance of normal regulation of body temperature." Wherein the water must also be consumer is informed that in order to obtain the claimed effect is necessary to provide a daily intake of at least 2 liters of water. Let every visitor of which draw their own conclusions.
USE: Energy Protektin renove 50 ml
Paint it locally on problematic areas in a thin layer 1-3 times a day. The cream can be applied in the places above single organs, on reflex zones or acupuncture points, both acute problems and chronic illness or discomfort. Certifies either massage or just the cream on the relevant points.
WARNING: Energy Protektin renove 50 ml
Store in a dry place, away from direct sunlight at a temperature of 10-25 ° C and protect from frost.
PACKAGING: Energy Protektin renove 50 ml
50 ml
Ingredients - Energy Protektin renove 50 ml
INGREGIENTS: Energy Protektin renove 50 ml
Aqua, Hydrogenated Sunflower Seed Oil, Extractum Herbarum (Fumaria Officinalis Extract, Geranium Robertianum Extract, Sophora Japonica Fruit Extract, Galega Officinalis Extract, Linaria Vulgaris Flower/Leaf/Stem Extract, Calluna Vulgaris Extract, Glycyrrhiza Glabra Root Extract, Hamamelis Virginiana Leaf Extract, Symphytum Officinale Root Extract, Acorus Calamus Root Extract, Anthyllis Vulneraria Flower Extrakt, Aralica Cordata Extract, Chelidonium Majus Extract, Scutellaria Baicalensis Extract, Galium Aparine Extract, Equisetum Arvense Extract, Viola Tricolor Extract), Cetearyl Alcohol, Glycerin, Cocamidopropylbetaine, Hydrogenated Polyisobutene, Decyl Glucoside, Tocopheryl Acetate, Carbomer, Argain Spinosa Kernel Oil, Hydrogenated Hemp Seed Oil, Parfum Polysorbate 20, Polyacrylate - 13, Caprylyl Glycol, Glyceryl Caprylate, Papaver Orientale Seed Oil, Phenylpropanol, Sodium Hydroxide, Kaolin, Citric Acid, Succinic Acid, Lauric Acid, Myristic Acid, Stearic Acid, Palmitic Acid, Citronellol, Geraniol, Limonene, Linalool.