Dědek kořenář Milk thistle Oil OO prevents the liver diseases. Functions as a first aid for higher consuption of alcohol and helps the liver and inflammatory diseases. Contributes to the overall health of the liver and gallbladder.
DESCRIPTION: Dědek kořenář Milk thistle Oil OO 100 ml
Milk thistle has been known for many years. Currently, we use only fruit - the seeds of milk thistle. Previously, the use of the leaves and roots. Products it can be used as prevention and as a supportive agent in the fight against many diseases. Milk thistle containing sugars, fats and proteins, in addition also the amino acids, essential oils and bitter substances. This complex is otherwise irreplaceable.
OO - Milk thistle Oil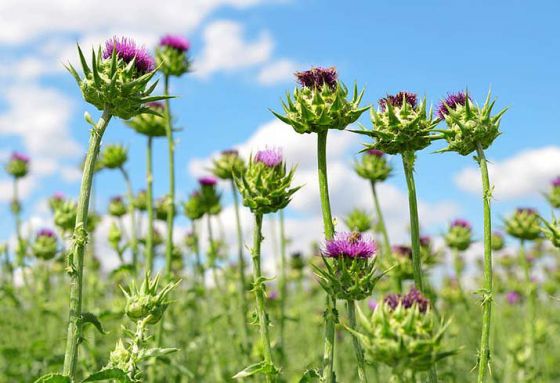 Milk thistle is suitable for interior and exterior use. It provides protection against fatty liver. It is possible to use it even after the inflammation of the liver. Generally it indicates that milk thistle helps fight mononucleosis and jaundice and is suitable for the degradation effects of chemotherapy. It is suitable for improving its functions and is also effective in depression and headaches. Also further reduces allergies, helps in various skin problems and low blood pressure.

USE: Dědek kořenář Milk thistle Oil OO 100 ml
1 teaspoon to 1 tablespoon of food or to take it with meals 1-3 times a day. Processing withstands temperatures up to 160 °C.
WARNING: Dědek kořenář Milk thistle Oil OO 100 ml
Do not exceed the recommended daily dose. This product has been marketed as a dietary supplement. It is not a cure and does not have an approved medicinal properties. It is not intended as a substitute for a varied diet. Not for children under 3 years of age. Keep out of reach of children. Store in a dry, dark and cool. We should be kept at a temperature of 5-25 °C.
PACKAGING: Dědek kořenář Milk thistle Oil OO 100 ml
100 ml
EFFECTS: Dědek kořenář Milk thistle Oil OO 100 ml
For more information about this product, unfortunately, we can not be disclosed because it would be in accordance with Regulation of the European Parliament and Council Regulation (EC) no. 1924/2006 health claims that can not be disclosed. We publish only those health claims that have been approved by the European Commission.

Ingredients - Dědek kořenář Milk thistle Oil OO 100 ml (Silybum marianum)
INGREDIENTS: Dědek kořenář Milk thistle Oil OO 100 ml
sunflower oil, herb extract from milk thistle, burdock, Benedict, lovage, calamus, fennel and hops