nahrin Artichoke Tablets are useful when sudden nausea, eg. when traveling, poor digestion, during vacation. It also serves as prevention of gallbladder problems. Contains the active ingredients - glucose extract, artichoke extract, peppermint extract.
nahrin Artichoke Tablets 75 g (50 tablets) - DESCRIPTION:
Artichoke is a warm-loving perennial with a stem of over one meter. Artichoke thrives in warmer regions, native to the Mediterranean and is used as vegetables for cold and warm dishes. Artichoke contributes to normal functioning of the liver and intestines, for detoxication and antioxidant.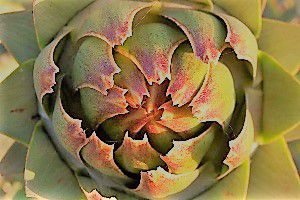 nahrin Artichoke Tablets contain extract of artichoke, fennel and mint. Help to maintain normal digestion, promote intestines function and liver purification. Artichoke helps in weight control and has positive effect on blood lipids. Other components of nahrin Artichoke Tablets include mint, which works against flatulence, and fennel, which contributes to the excretion of urine. Contained extracts further promote the normal function of the immune system. Tablets ideal for travel.
nahrin Artichoke Tablets 75 g (50 tablets) - EFFECTS:
It supports the formation and expulsion of bile, reduces cholesterol, promotes detoxication liver function, generally improves digestion and metabolism, as prevention of arteriosclerosis, prevents flatulence, nausea and intestinal problems
nahrin Artichoke Tablets 75 g (50 tablets) - DOSAGE:
Recommended daily dose: 1-2 tablets a day chewing them as needed before or after meals, 3-4 tablets when sudden nausea.
nahrin Artichoke Tablets 75 g (50 tablets) - CAUTION:
Store closed in a dry place away from heat.
Keep out of reach of children. Do not exceed the recommended daily dose.
Do not use as a substitute for a varied diet. Not suitable for children under 3 years.
nahrin Artichoke Tablets 75 g (50 tablets) - PACKAGING:
75 g (50 tablets)
Ingredients - nahrin Artichoke Tablets 75 mg (50 tablets)
glucose, extract of artichoke 15% maltodextrin, fennel extract 4% extract of peppermint 1.5%, soya lecithin emulsifier, binder, magnesium stearate, natural mint flavor