MycoMedica Enoki extract is about 20 times more concentrated than the dried powder of the hub. Enoki contains many active substances vitamins, minerals, polysaccharides - beta glucan, antioxidant polyphenols and isoflavones. The content of polysacharides in the extract MycoMedica Enoki is at least 30%.
DESCRIPTION: MycoMedica Enoki 90 capsules
Enoki
or Flammulina velutipes, Czech enokitake comes from Japan, where she called winter mushroom, it grows even in winter. This enoki received by Japanese enoki stoma, on which it grows. Because of the many therapeutic agents is examined Japanese scientists. They found it contains three unique polysaccharides having significant immunostimulatory and antitumor effects.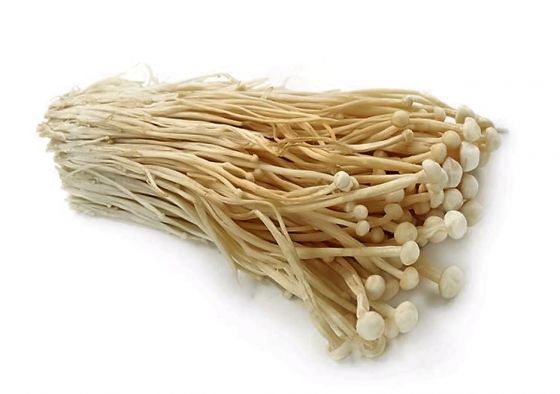 In Egypt, it was considered a fungus of immortality, reserved primarily for pharaohs, because they believed that it prolongs life.
Typically, people use it, they suffer from a weak immune system, cancer, diabetes, allergy or food dermatitis.
EFFECTS: MycoMedica Enoki 90 capsules
For more information about this product, unfortunately we can not mention, because it would be in accordance with Regulation of the European Parliament and Council Regulation (EC) no. 1924/2006 health claims that can not be disclosed. We can publish only those health claims that have been approved by the European Commission. As an example, authorized health claim might claim for water: "It contributes to the maintenance of normal physical and cognitive functions, contributes to the maintenance of normal regulation of body temperature." Wherein the water must also be consumer is informed that in order to achieve the claimed effect is necessary to ensure a daily intake of at least 2 liters of water. Let each visitor of this draw their own conclusions.
USE: MycoMedica Enoki 90 capsules
During health problems: 3-4 capsules a day to relieve problems (it is advisable to consult a doctor or practitioner of Chinese medicine).
We recommend using it 5 days a week and skipping it for 2 days.
For preventive use: 1-2 capsules a day (2-3 months a year).
Take the capsules in the jar (at least 20 minutes before a meal or 30 minutes after a meal), drink with water or faint tea.
WARNING: MycoMedica Enoki 90 capsules
The product is not intended for children under 3 years of age, pregnant and nursing women. Do not exceed the recommended daily dose. Keep out of the reach of children. The product is not a substitute for a varied diet. Observe a healthy lifestyle. Does not contain ephedrine, caffeine, gluten, preservatives, coloring agents or sugar. Store in a dark, dry place.
PACKAGING: MycoMedica Enoki 90 capsules
90 capsules