The healthiest seed for the organism in organic quality, with a pleasant nutty flavor, without any psychoactive effects. As an ingredient in foods cold and hot cuisine delicacy or after roasting.
DESCRIPTION: Zelená Země BIO Hemp seeds unshelled 150 g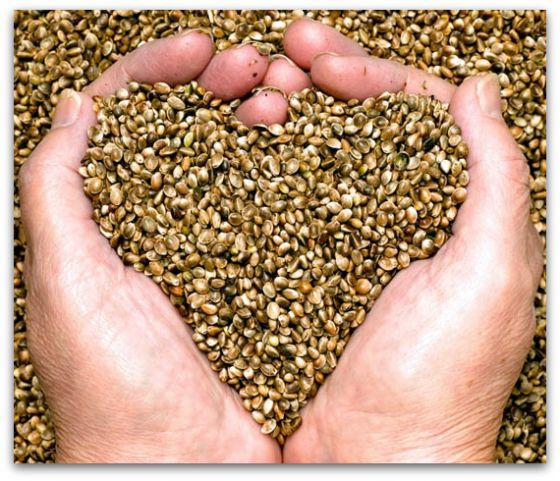 Organic hemp seeds derived
from controlled organic cultivation
are
obtained from legal hemp varieties grown for food purposes
(Cannabis sativa L). Therefore, they do
not contain a psychotropic THC
(tetrahydrocannabinol, which occurs in marijuana and hashish), so you need not be afraid to consume them.
They are characterized by a high content of a wide range of healthy nutrients and are among the healthiest and most valuable foods. Hemp protein contains all 23 naturally occurring amino acids, of which 8 are essential amino acids, ie those which the human body itself can not produce, and therefore it is necessary to supplemented by diet.
Hemp seed is a natural source for vitamins A, B1, B2, B3, B6, B9, C, D and E, strong antioxidants, calcium, magnesium, potassium, iron, phosphorus and other bioactive substances.
Unique is the high content of essential unsaturated fatty acids omega 3, 6 and 9 in the ideal ratio, and then phytosterol, chlorophyll, lecithin and fiber. An important component is also globulin edestin, which is even better digestible than soy protein.
The substances contained therein promote brain activity and help to improve memory and concentration, stimulate the development and regeneration of organs, help to lower cholesterol levels. They have anti-inflammatory and detoxifying effects and strengthen the immune system of the entire human organism.
Hemp seeds consumption is a good addition to the high physical and mental stress. Thanks to its ability to discard the metabolites of lactic acids, the hemps help alleviate muscle pain, which is especially appreciated by athletes.
Hemp seeds do not contain gluten, and therefore hemp products are suitable for people with a gluten-free diet. Can also be used as a dietary supplement for diabetics, for body detoxification and for weight loss. Supports digestion, help to inhibit the excessive growth of unwanted bacteria and promote the growth of the desired ones. Positive effects on the skin, nails and hair quality.
The hemps seeds are not only healthy, but also very tasty, with many possibilities of application in the hot and cold kitchen.
EFFEKTS: Zelená Země BIO Hemp seeds unshelled 150 g
We regret that we can not provide further information about this product as it would be a breach of the Regulation of the European Parliament and Council No 1924/2006 Regulation (EC) No 1924/2006 on nutrition and health claims made on foods To be disclosed. We may only publish the health claims, which have been approved by the European Commission. As an example, we provide a health-related indication for the water: "It contributes to the maintenance of normal physical and cognitive functions, contributes to the maintenance of normal body temperature regulation." In the case of water, the consumer must also be informed that, in order to achieve the claimed effect, a daily intake of at least 2 liters of water must be made available. Let each visitor draw their own conclusions.
USE: Zelená Země BIO Hemp seeds unshelled 150 g
Hemp seeds are a healthy ingredient in salads, beverages, homemade spreads, pesto, various fillings, doughs, soups, rice, pasta and other dishes. In order to support the nutty flavor and the aroma of hemp seeds, you will not save on it.
With the seeds one can sprinkle homemade pastries, salty as well as sweet cakes, bread and so on.
For Christmas, you can bake healthy, tasty pancakes or make different balls without baking. Hemp seeds can be excellently combined with walnuts, almonds, sesame, chia seeds, dried dates, figs, plums and other fruits.
To the wine, beer or simply to the television are delicious Hanfsamen, briefly roasted in a pan and quite according to your taste with some spices strewn.
The unshelled hemp seeds are a bit harder than the shelled, and therefore are more suitable for hot food. The heat treatment should never be too long, so that the valuable substances are not destroyed. For direct consumption it is recommended to soak the seeds in water overnight. The shells also soften after damping.
Of the seeds soaked in water, a tasty hemp milk can be prepared in the blender, which can then be tasted with fruits, etc.
The recommended daily dose is not given by the manufacturer, but generally 15 to 20 grams is recommended, which corresponds to two tablespoons.
IMPORTANT NOTE: Zelená Země BIO Hemp seeds unshelled 150 g
Do not expose to the sun, always close well, in a dry place at max. 20 ° C.
Allergens: Do contains psychotropic component THC. Without gluten
PACKING: Zelená Země BIO Hemp seeds unshelled 150 g
Paper bag 150 g
Ingredients - Zelená Země BIO Hemp seeds unshelled 150 g
INGREDIENTS: Zelená Země BIO Hemp seeds unsheled 150 g
BIO Hemp seeds unshelled.
Contains unsaturated Fat: Omega 3 (7 g); Omega 6 (18 g); Omega 9 (2 g).
Allergens: Do contains psychotropic component THC. Without gluten.