Grešík Echinacea Syrup it strengthens the immune system and is suitable for supporting the immune system. It has a pleasant flavor, it promotes health and is suitable for diabetics.
DESCRIPTION: Grešík Echinacea Syrup 185 ml
Food supplement with orange flavor. It strengthens the immune system, suitable for supporting the immune system. The product only contains fructose, it is suitable for diabetics. Herbal syrup is made from herbal extracts and fruit sugar - fructose. So it may take even people with diabetes. Some syrups are flavored with natural citrus essential oils.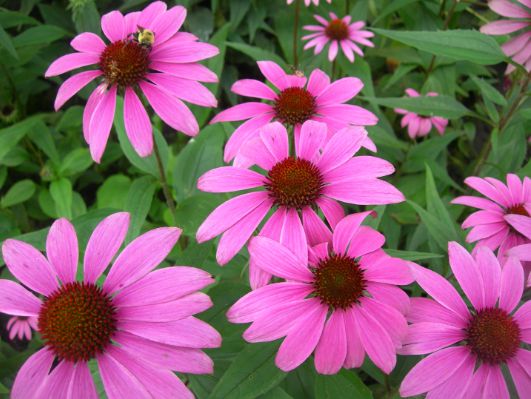 Echinacea
(coneflower) is a genus of flowering ornamental flowers from the family Asteraceae that have the same names Czech coneflower. It has great significance and ornamental horticulture, where an important group of undemanding perennials forming a multicolored group of different colors, there are many cultivars. It reproduces by seeds, cuttings and division of clumps. It contains several chemicals that play a role in the therapeutic effects of the plant.
The company Valdemar Grešík - Natura was founded in 1990 and today ranks among the leading Czech producer of herbal teas, fruit teas, spices, drops, ointments, baths, medicinal herbs, dietary supplements. In addition distributes a wide range of domestic and foreign products focusing on tea, tea accessories, herbal medicines and other goods destined for pharmacies and herbalism.
EFFECTS: Grešík Echinacea Syrup 185 ml
For more information about this product, unfortunately, we can not be disclosed because it would be in accordance with Regulation of the European Parliament and Council Regulation (EC) no. 1924/2006 health claims that can not be disclosed. We publish only those health claims that have been approved by the European Commission. As an example, approved a health claim for the water we claim: "It contributes to the maintenance of normal physical and cognitive functions, contributes to the maintenance of normal regulation of body temperature." Wherein the water must also be consumer is informed that in order to obtain the claimed effect must provide a daily intake of at least 2 liters of water. Let every visitor of which draw their own conclusion.
USE: Grešík Echinacea Syrup 185 ml
Dosage: 3 times a day 1 teaspoon (5 ml). The recommended daily dose is determined. Shake before use!
WARNING: Grešík Echinacea Syrup 185 ml
Not for children under 3 years. Do not exceed the recommended daily dose. Do not use as a substitute for a varied diet. Not suitable for pregnant and breastfeeding women, unsuitable for people with autoimmune diseases. Keep out of reach of children!
PACKAGING: Grešík Echinacea Syrup 185 ml
185 ml
Ingredients - Grešík Echinacea Syrup 185 ml (Echinacea purpurea)
INGREDIENTS: Grešík Echinacea Syrup 185 ml
fructose syrup, water, extract from roots and stems of the purple coneflower (echinacea), natural orange oil, antioxidant ascorbic acid, preservative potassium sorbate
Extract content
100 ml contains 3,24 g of echinacea extract
5 ml contains 162 mg of echinacea extract