nahrin Thistle oil is obtained by cold pressing. ✅ Nahrin thistle oil has a high content of unsaturated fatty acids. Usually we deliver our products within 2 days❗ Wide selection of JUST products now for even better price.
nahrin Thistle oil 500 ml - DESCRIPTION:
Essential fatty acids are one of the most important substances in our body, however our body is not able to produce them. They are very important for the overall functioning of the brain (which is composed of 2/3 fat), mental health, and cardiovascular system. What is important is their intake mainly in women during pregnancy and breastfeeding, because they are important for child development. At the time of pregnancy may be levels of essential fatty acids in women up to a half lower, it is necessary to increase their intake. It is also important to provide more intake even during early childhood, because of their lack may have a negative impact on brain development, mental health and eyesight.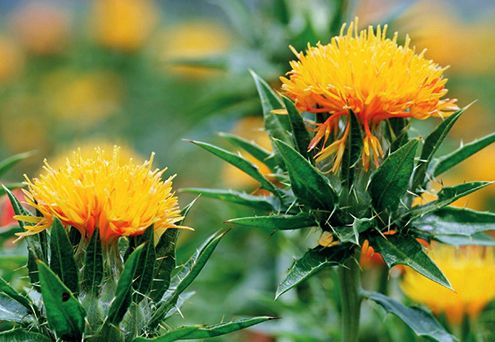 Oils from natural sources are known for its high content of just these essential fatty acids. While sunflower and olive oil are already considered a normal part of almost every kitchen, thistle oil has not got commonly to consumers yet, which is shame. Just thistle oil is so rich in linoleic acid (75.5%) and vitamin E. The oil retains its characteristic properties in cold form, it is therefore especially suitable for the preparation of cold dishes - salads, pasta, oatmeal.
nahrin Thistle oil 500 ml - EFFECTS:
lowers LDL cholesterol, counteracts the formation of blood clots and arteriosclerosis, stimulates intestinal peristalsis, helps to regenerate liver cells
nahrin Thistle oil 500 ml - CAUTION:
Store in a dark place away from heat. Keep out of reach of children!
nahrin Thistle oil 500 ml - USE:
We do not recommend nahrin Thistle oil 500 ml used for frying or deep frying because the oil deteriorates and produce harmful substances at high temperatures. It is suitable for cold dishes, adding to hot dishes is suitable after heat treatment. Oil can be used as a prevention, one tablespoon each morning on an empty stomach. The oil is more fluid than other oils, dose carefully, it has no taste or aftertaste.
nahrin Thistle oil 500 ml - PACKAGING:
Ingredients - nahrin Thistle oil 500 ml
nahrin Thistle oil 500 ml:
100% safflower oil enriched with vitamin E (38 mg / 100 g)