Chicken broth without fat in the form of paste is suitable as a base soups, sauces and flavouring of dishes. You can add some noodles or vegetables into prepared broth. Pure broth can be eaten hot during the day, eg. during colds.
nahrin Chicken Broth 500 g - DESCRIPTION:
Broths are an excellent substitute of conventional soups for its low fat and cholesterol. Broths of nahrin company have reduced salt content, but because of vegetable extract are rich in wonderful flavors and aromas are suitable helper in every kitchen when preparing soups, sauces, snacks, etc.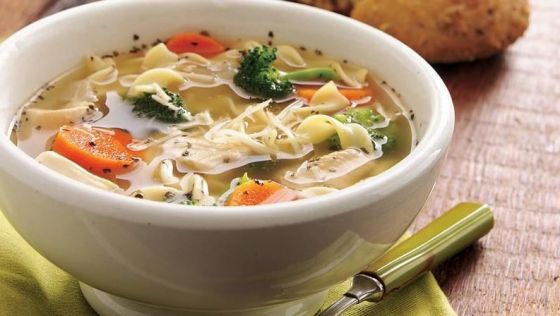 They have a low calorie value and are easily digestible, therefore recommended in reducing body weight, after surgery, for various health diets. Thanks to a large variety of combinations and flavors among broths nahrin offers something for everyone, it dissolves well in cold water and for their strong concentration you can prepare many meals.
nahrin Chicken Broth 500 g is a broth in the form of a paste to prepare chicken soup, basting meat, for seasoning sauces and pastas, or in reducing diet. Can have a positive effect on your digestive tract, it is also suitable for convalescence after surgery or diseases of the kidney and stomach. Careful composition, excellent taste - it is nahrin Chicken Broth 500 g.
nahrin Chicken Broth 500 g - EFFECTS:
contains no fat or cholesterol, affects digestion process, is suitable for kidney or stomach diseases, swelling, high blood pressure
nahrin Chicken Broth 500 g - USE:
1/2 teaspoon (about 2.5 g) of the mixture, pour 1/4 liter of hot or cold water (1 preparing plates).
nahrin Chicken Broth 500 g - CAUTION:
After opening, store in refrigerator.
nahrin Chicken Broth 500 g - PACKAGING:
500 g
Ingredients - nahrin Chicken Broth 500 g
nahrin Chicken Broth 500 g
kitchen salt (iodized), spices (containing soy and wheat), flavor enhancers (monosodium glutamate, sodium inosine, guanylate sodium), yeast extract, chicken broth concentrate of 6.6% natural flavor, freeze-dried chicken 2%, spice mix