Iswari BIO Matcha is green tea in powdered form, which is derived from the leaves of green tea in Japan. It has a positive effect on the metabolism and can induce a feeling of peace and harmony.
DESCRIPTION: Iswari BIO Matcha 70 g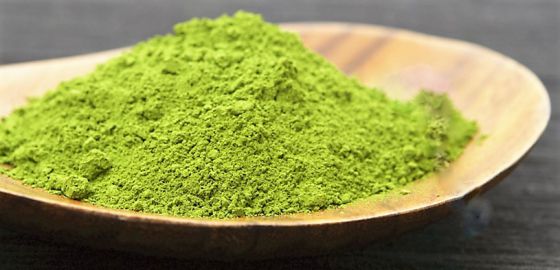 Matcha tea
is green tea, which is obtained by crushing green tea leaves that are grown in 90% dark.
Matcha has a large amount of antioxidants than ordinary green tea. It contains many minerals - calcium, potassium, zinc, iron, vitamins E, C and beta-carotene. Important substance is L-theanine and theophylline. L-theanine can induce a brain state relaxation without drowsiness. Theophylline is the nerve center of a great stimulant. Buddhist monks was often used during meditation as a tool that brings peace and harmony.
EFFECTS: Iswari BIO Matcha 70 g
For more information about this product, unfortunately, we can not be disclosed because it would be in accordance with Regulation of the European Parliament and Council Regulation (EC) no. 1924/2006 health claims that can not be disclosed. We publish only those health claims that have been approved by the European Commission. As an example, approved a health claim for the water we claim: "It contributes to the maintenance of normal physical and cognitive functions, contributes to the maintenance of normal regulation of body temperature." Wherein the water must also be consumer is informed that in order to obtain the claimed effect must provide a daily intake of at least 2 liters of water. Let every visitor of which draw their own conclusion.
USE: Iswari BIO Matcha 70 g
Stir in 1 teaspoon (about 5 g) to milk or fruit cocktail, smoothies, desserts or just pour cold or warm water.
Matcha latte: 1/2 - 1 teaspoon of matcha, a few tablespoons of hot water, a cup of vegetable milk (eg. Rice), 1 teaspoon coconut sugar.
about 5 grams per day (1 teaspoon).
WARNING: Iswari BIO Matcha 70 g
The product is not intended for children under 3 years! Use during pregnancy and breast-feeding consult your doctor. Dietary supplements are not intended to substitute varied diet. Do not exceed the recommended dosage.
Store in a dry place, away from direct sunlight at a temperature of 10-25 ° C. Do not freeze. Keep out of reach of children.
PACKAGING: Iswari BIO Matcha 70 g
70 g
Ingredients - Iswari BIO Matcha 70 g (powder)
INGREDIENTS: Iswari BIO Matcha 70 g
100% organic matcha (powder), caffeine
Vitamins, minerals:

100 g

vitamin

C

162,9 mg

magnesium

197,9 mg

Caffeine

3,2 g